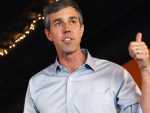 Beto O'Rourke's Democratic presidential campaign says he raised more than $6 million online during the first 24 hours after he announced his White House bid last week.
Representative Louie Gohmert (R-TX) — long a source of vitriolic rhetoric — scored again with his comments on the New Zealand mosque attack.
Back when he was still just teasing a presidential run, Beto O'Rourke told "Vanity Fair" he was "born to be in" the race.
Fox News weekend host Jeanine Pirro's show didn't air a week after her comments questioning U.S. Rep. Ilhan Omar over her wearing a Muslim head covering. No explanation was given.
Before Bernie Sanders took the stage to formally launch his 2020 presidential campaign this month, the candidate's most influential adviser took the mic: his wife Jane.
Did Joe Biden accidentally reveal his plans to run for the White House? Or was it just another slip of the tongue by the former vice president with a reputation for veering off script.
Presidential candidate Beto O'Rourke said Saturday that being a white man in a 2020 Democratic field that's so deeply diverse won't be a hindrance because his gender and race have given him inherent advantages for years.
Mike Pence's anti-LGBTQ views are well-known, but when Joe Biden called him a 'decent guy' & out Irish PM Leo Varadkar brought his bf to meet the VP, his LGBTQ record came under scrutiny by 2 Presidential candidates.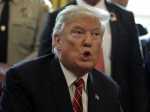 President Donald Trump played down any threat posed by racist white nationalism after the gunman accused of the New Zealand mosque massacre called the president "a symbol of renewed white identity."
Irish PM Leo Varadkar brought his bf to VP Mike Pence's residence & addressed his gay identity in his comments. It made another instance of bringing attention to Pence's views on LGBTQ equality.