Two brothers who say they helped Jussie Smollett stage a racist and homophobic attack against himself filed a lawsuit Tuesday against the "Empire" actor's attorneys.
Whether you're headed to NYC for WorldPride or another iconic locale to celebrate and commemorate the 50th anniversary of the Stonewall Riots, you need a plan. We turned to our travel expert friends at Orbitz for insider tips on what not to miss.
Get swole, prepare a bug-out bag, grab a go-cup and maybe you'll have a better chance of surviving the omnicide.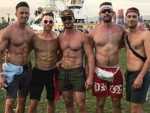 A gay couple who was photographed with Aaron Schock last week recently took to Instagram, apologizing for appearing with the disgraced former Republican Congressman after a Twitter outcry.
Chicago's top prosecutor drew heavy criticism after she recused herself from the case against Jussie Smollett and then complained in text messages to a subordinate that her office had overcharged the "Empire" actor.
A House chairman subpoenaed former White House counsel Don McGahn as Democratic leaders moved to deepen their investigation of President Donald Trump while bottling up talk among their rank-and-file of impeaching him.
A Nevada Democrat who accused Joe Biden of touching her without permission says the former vice president has been "so incredibly disrespectful" by joking about the matter.
A federal appeals court on Monday rejected a bid by former Army intelligence analyst Chelsea Manning to be released from jail for refusing to testify to a grand jury investigating Wikileaks.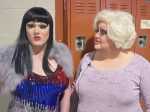 The suicide of a bullied 15-year-old in Huntsville, Alabama, has sparked efforts to reach out to LGBTQ youth and also provide education around the issue of bullying.
President Donald Trump and his business organization have sued the Democratic chairman of the House oversight committee to block a subpoena that seeks years of the president's financial records.