Ohio Man, 18, Indicted for Terroristic 'Army of Christ' Mass Shooting Threats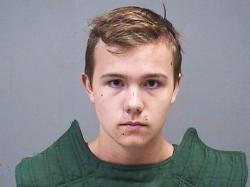 An 18-year-old Ohio man who posted threats online about mass shootings targeting a gay bar and a Planned Parenthood clinic has been indicted by a Federal grand jury, reports cleveland.com.
Justin Olsen had reportedly posted comments about wanting to stockpile weapons, and weapons was what police found when they raided his home on August 6 after the young man "crossed a line" by posting about shooting federal law enforcement officers. In all, The Daily Beast reported, authorities retrieved more than two dozen firearms and more than 10,000 rounds in a search conducted after Olsen was taken into custody. Among the weapons were 15 rifles and 10 semi-automatic pistols, reports noted. Olsen also had allegedly expressed the intention of purchasing a kit to assemble his own AR-15, a semi-automatic that has been used in numerous mass shootings and reportedly can discharge 6 bullets per second. Authorities also found a machete in the young man's car.
Olsen's father subsequently claimed that the weapons were his.
Olsen had posted his threats at an online forum called iFunny, where he moderated a chat room and went by the moniker "Army of Christ." The cleveland.com report said that Olsen's online comments indicated "a proclivity for white supremacy."
Though the young man had been posting violent and threatening messages for some time, federal law enforcement held off on taking action — until, that is, the day he posted about shooting "every federal agent on sight."
"Protecting citizens' freedom of speech is a main priority for the FBI, but when you call for the killing of federal officers you have crossed the line," an FBI spokesperson told the media, according to cleveland.com.
Olsen was only one of more than 30 people to be arrested for making terroristic threats in the wake of the mass shootings in Dayton, Ohio, and El Pasto, Texas. The shootings, which shocked the nation, took place over the span of a single weekend and were seemingly driven, at least in part, by racial hatred.
Less than two weeks after Olsen's arrest, another Ohio man — James Reardon, 20, of New Middletown — was arrested after posting an image and caption on Instagram that suggested he was going to shoot up a Jewish community center.
Not long after that, a Florida teen was arrested after he said online that he intended to shoot a number of people at his school.
Olsen claimed that his comments were not intended to be taken seriously. But in an age when mass shootings are commonplace and killers cite the manifestos of mass shooters who came before, authorities are less willing to adopt a wait and see attitude.
As the local chief of police, Good Werth, put it in Olsen's case: ""Based on the obviously terroristic related rhetoric from ArmyOfChrist, I believe that Justin Olsen is planning a terrorist attack in the United States."
Kilian Melloy serves as EDGE Media Network's Assistant Arts Editor. He also reviews theater for WBUR. His professional memberships include the National Lesbian & Gay Journalists Association, the Boston Online Film Critics Association, The Gay and Lesbian Entertainment Critics Association, and the Boston Theater Critics Association's Elliot Norton Awards Committee.
Comments on Facebook