Gay Indianapolis: The Latest
A long-serving member of Parliament was stabbed to death Friday during a meeting with constituents at a church in England.
The Russian propaganda campaign against the LBGTQ+ lifestyle is beginning to pay off if a new poll is to be believed. "
Having welcomed twins, Lance Bass and husband Michael Turchin are officially dads. They shared the news on Instagram in the cutest way.
Comedian Hannah Gadsby gave Netflix the middle finger over dragging her into the Dave Chappelle controversy.
Jake Gyllenhaal didn't understand the fuss over "Brokeback Mountain," but wouldn't play the role today.
Provincetown's iconic resort The Crown and Anchor is in the process of being sold.
The music world is abuzz over Adele's latest single, "Easy On Me," which dropped Thursday. What fans may not know is that the video is directed by Xavier Dolan, the out French Canadian director/writer/actor.
As another week comes to a close, it's time for a round up of the best tweets from Gay Twitter. This week's edition includes reactions to Adele's new music, National Coming Out Day, Timothée Chalamet's Wonka reveal and more!
Was Fox's Tucker Carlson speaking about his colleague Jesse Walters when he quipped, "'Paternity leave.' Trying to figure out how to breastfeed. No word on how that went."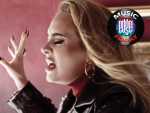 Welcome to EDGE's New Music Friday, our guide to the best singles and albums released every week! This week welcomes the return of Adele plus new music from Coldplay, PinkPantheress, Summer Walker and more!
Openly gay Olympic gold medalist Tom Daley reflects in his new memoir "Coming Up for Air" on how being a gay dad attracts heightened "judgment" and unwanted parenting advice.
Todd Haynes's fascinating doc about The Velvets also documents a unique era in NYC when it was a mecca for avant-garde artists of every stripe.
Near the Twizzlers and Sour Patch Kids at It'Sugar are random items — fidget toys, fruit-shaped soft jelly candies — that earned a spot on the candy store's shelves because they went viral on TikTok.
Australia has agreed to build a 20-kilogram (44-pound) semi-autonomous lunar rover for NASA to take to the moon as early as 2026 in search of oxygen.
Inflation at the wholesale level rose 8.6% in September compared to a year ago, the largest advance since the 12-month change was first calculated in 2010.
U.S. safety investigators want to know why Tesla didn't file recall documents when it updated Autopilot software to better identify parked emergency vehicles.
Apple CEO Tim Cook and retired NBA All-Star Dwyane Wade joined Utah leaders Wednesday to announce the completion of a local advocacy group's campaign to build new homes that provide services for LGBTQ youth in the U.S. West.
U.S. health advisers said Thursday that some Americans who received Moderna's COVID-19 vaccine at least six months ago should get a half-dose booster.
India reopened to fully vaccinated foreign tourists traveling on chartered flights on Friday in the latest easing of its coronavirus restrictions as infection numbers decline.
The LGBTQ+ community and their allies came together for Orlando's Come Out with Pride Celebration. There was something for everyone with a fantastic festival, amazing Pride Parade, plenty of entertainment, dozens of vendors, businesses and organizations.