Gay Indianapolis: The Latest
"Hedwig and The Angry Inch's" John Cameron Mitchell has signed on for a title role as Joe Exotic in a recently announced project from UCP, based on the Wondery podcast about the subject.
Former Minneapolis Officer Derek Chauvin was convicted of murder and manslaughter for pinning George Floyd to the pavement with his knee on the Black man's neck in a case that touched off worldwide protests.
As more Americans every day are inoculated, a tiny but growing number are contending with the disturbing experience of getting covid despite having had one shot, or even two.
The Years & Years frontman has his next role figured out, but hopes it will be a gay superhero.
Colton Underwood was spotted in a Denver club on Sunday with gay pal Gus Kenworthy.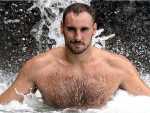 Spanish water polo star Víctor Gutiérrez has said enough to homophobic insults after being called one by an opponent this past weekend.
Scott Rudin says he's "stepping back" from film and streaming projects, along with his Broadway productions, as the fallout continued for one of the entertainment industry's most powerful and prolific producers following renewed accusations of bullying.
Rocker Ted Nugent is revealing he was in agony after testing positive for coronavirus — months after he said the virus was "not a real pandemic."
Volunteers came from far and near to help a gay Australian man paint his house in the colors of the rainbow - inside and out - after local homophobes made death threats against him.
A Namibian court turned away an appeal from a gay father who is stranded in South Africa with his five-week-old twin daughters. Namibia has said it will refuse to issue documents to the infants without "genetic proof."
Sven Sundgaard, out former weatherman for Minneapolis TV station KARE 11, is suing the station, saying his firing last year was due to his sexual orientation and Jewish faith.
Arguably one of Bong Joon Ho's most searing and monumental works, "Memories of Murder" follows a string of serial killings in a small rural community of South Korea in the 1980s. It's now available on Criterion Collection Blu-ray.
Restaurants and delivery companies remain uneasy partners, haggling over fees and struggling to make the service profitable for themselves and each other.
Half of all adults in the U.S. have received at least one COVID-19 shot, the government announced Sunday, marking another milestone in the nation's largest-ever vaccination campaign.
In almost all cases, you can shred or throw away any documents such as W-2s, 1099s or other forms or receipts three years after you file your tax return.
How can you evaluate new gadgets in the typical 15- to 20-minute test drive if you don't quite know what they do or what to look for?
The pandemic has torn a multibillion-dollar bite out of the fabric of Europe's fashion industry, stopped runway shows and forced brands to show their designs digitally instead.
Gender-affirming hormone therapy, which uses hormones to align an individual's physical characteristics with their gender identity, has been linked to blood pressure changes in transgender men and women, new research finds.
French President Emmanuel Macron says he foresees at least some tourists returning to Paris this summer if they have gotten vaccinated or have proof of testing negative for the coronavirus as France moves to progressively lift infection-control restrictio
In certain circles of San Francisco, a case of syphilis can be as common and casual as the flu.