Topics :: Fire Island
After Hurricane Ida, Fire Island Pines was in full swing for Labor Day weekend with super star DJ's Billy Carroll, Mike Borowski and Dan Slater keeping the dance floors pumping.
Summer days on Fire Island are hot and the nights at the Ice Palace in the Grove are steamy with the DWorld underwear party.
With summer temperatures soaring, there was no better place to be than Low Tea at Blue Whale in the Fire Island Pines and Fun Tea at the Pines Pool Deck.
Return to Wonderland was the theme of Pines Party 2021 featuring headlining DJ's David Morales, Calagna, Abel and Danny Kravits.
The Fire Island Pines Pool Party, or Mad Hatter's Tea Dance, was held on the Great South Bay with an open bar and DJ's Lupe Fuentes, Scott Martin and Someone From Berlin.
The annual 4th of July Fire Island Pines drag Invasion was rescheduled due to bad weather but did not disappoint once the ladies arrived serving up a fun day for everyone in attendance.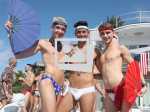 Ty Sunderland and Daniel Nardicio presented their July 4th Red White & Reflections party on Fire Island with Aquaria, Nicky Doll and Tina Burner, all from RuPaul's Drag Race.
The 10th annual Women's Pride in the Pines was held at Whyte Hall featuring a dance party with DJ Susan Levine, a buffet dinner, entertainment from comedian Jessica Kirson, and Jan Sport from RuPaul's Drag Race.
Co-hosts Doug Harris, Nicole LaFountaine, Ryan McNamara, Dr Ed Shulhafer and Crayton Robey joined together for the 29th Annual Sage Fire Island Pines Celebration, in-person at Lepage Pavilion of Whyte Hall.
The Fire Island Grove Ice Palace held its first DWorld Underwear Party of the season. Guests were eager to strip down to their underwear after showing proof of vaccination to get in.