Watch: 'Queer Eye' Cast Continue to Spark Dating Rumors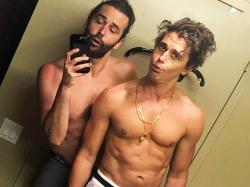 Are "Queer Eye" stars Jonathan Van Ness and Antoni Porowski a couple? It's hard to tell...

Weeks after sharing an pic of themselves kissing on Instagram, the Fab Five members cleared dating rumors up with Van Ness writing on Instagram: "It was all Antoni's idea but maybe someday we will fall in love @anton," Van Ness wrote, adding an LGBTQ Pride flag emoji and the hashtag "#notacouplebutitwasfunright."

But the "Queer Eye" folk ignited dating rumors yet again this week. The Fab Five were on "The Tonight Show with Jimmy Fallon" this week and Van Ness shared a pic of himself holding hands with Porowski, captioning the snap: "These pics are so cute I posted another one. I love my Antoni bae & @karamo jealousy doesn't look good on you catch us tonite @fallontonight."





Fellow Fab Fiver Karamo Brown commented on the pic, writing, "I love you both! And for all who are asking. It's real. They are a couple and in love. First Fab 5 couple."

There's also a verified Instagram account devoted to the couple called jvntoni — a mash-up of their names.





The "Queer Eye" cast recently spoke with E! News but were cagey about the relationship.

"What is real?" Porowski asked before Van Ness asked the same question and walked over to the food guru to give him a smooch.

"Let's all make out!" Porowski yelled.

When Brown threatened to reveal the relationship Van Ness said: "In making secure functioning relationships honey, you have to protect your relationship in private and in public and so I will say this to you Karamo: I am protecting this relationship in private and in public and I'm going to need you to protect it too."

"Just know the Fab Five is in love," Brown said.





"Queer Eye" Season 4 hit Netflix last month.

Watch the interview below.
Comments on Facebook