Gay Indianapolis: The Latest
LA Log Cabin Republicans are urging gay Trump supporters and housewives to meet for a very short march in West Hollywood on Friday.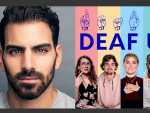 Nyle DiMarco's new show gives Gallaudet students a deaf reality show, COBRA's futuristic disaster series chills, and "First Day" introduces a trans teenager to high school life.
Halloween is synonymous with The Boulet Brothers, the LA-based duo whose "Dragula" competition show is a Netflix hit. This year they are doing something different & talk about their Shudder special, 'Dragula: Resurrection.'
U.S. health officials Wednesday redefined what counts as close contact with someone with COVID-19 to include briefer but repeated encounters.
The global hunt for a COVID-19 vaccine for kids is only just beginning — a lagging start that has some U.S. pediatricians worried they may not know if any shots work for young children in time for the next school year.
A new survey found that seventy percent of Americans support same-sex marriage, the highest figure up to this point conducted by a major national polling organization.
British pop singer Sam Smith recently opened up about how their struggle with body dysmorphia led to coming out as non-binary last year.
Today, TikTok announced in a statement that the social media platform will ban anti-LGBTQ content, including that which promotes conversion therapy.
Rudy Giuliani is shown with his hand down his pants after flirting with an actress playing a young woman pretending to be a television journalist in a scene in Sacha Baron Cohen's latest mockumentary, a sequel to his hit "Borat" film.
Tiffany Trump's rambling comments at a Pride Rally in Florida this past weekend has elicited much social media comment with many questioning her sobriety.
Sex workers have been saying they face significant violence from police and clients for decades and it is time that we all listen to these voices when determining how to improve safety for sex workers," says an ACLU representative.
Outfest® has launched
Outfest Now
, a year-round, always-on destination to meet the increasing demands for fresh storytelling with new perspectives within the LGBTQIA+ community.
Stoli commemorates LGBTQ History Month by presenting The Legacy Project's LIVE Global Broadcast on October 11 and releasing a new music single and video, "Stoli Serves Pride" by #1 Billboard artist Debby Holiday.
A new smartphone app could make it easier for international airline passengers to securely show they've complied with COVID-19 testing requirements
President Donald Trump's sprawling political operation has raised well over $1 billion since he took the White House in 2017 — and set a lot of it on fire.
Seven auto companies have plans to roll out new battery-powered pickup trucks over the next two years, aiming to cash in on a popular and lucrative market for expensive vehicles.
It's that time of the year again! In case 2020 isn't scary enough for you - here are five Halloween cocktails straight out of your nightmares!
"I just think that Trump doesn't understand addiction," said Diane Urban, 53, a Republican from Delphos, Ohio, who voted for the president in 2016 and whose son died from an overdose in 2019.
Grab your weekender bag and get out of town. The leaves are turning, and there's a small window of time to take in Mother Nature's annual fashion makeover.
CBD Unlimited is a market leader within CBD industry. Better Products, Better You! Strive to Be Unlimited!
www.cbdunlimited.com