Elliot Truslow went to a CVS drugstore on June 15 in Tucson, Arizona, to get tested for the coronavirus. More than 22 days later, the University of Arizona graduate student was still waiting for results.
A COVID-19 vaccine will have an actual price tag. And given the prevailing business-centric model of American drug pricing, it could well be budget breaking, perhaps making it unavailable to many.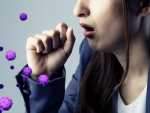 When someone coughs, talks or even breathes, they send tiny respiratory droplets into the surrounding air. The smallest of these droplets can float for hours, and there is strong evidence that they can carry live coronavirus if the person is infected.
Dentists can't eliminate all risk, but they are taking steps to minimize the chances of spreading the coronavirus.
There is some risk, but health officials say there are precautions you can take to minimize the chances you'll be exposed to the virus.
In areas where COVID-19 is spreading, health experts agree that wearing masks or other face coverings in public helps reduce the risk of spreading the virus when people can't socially distance by staying six feet apart.
The public has been barraged by conflicting messages in part because the country is dealing with a new and still poorly understood virus and in part because politicians and scientists deliver conflicting advice.
Flying can increase your risk of exposure to infection, but airlines are taking some precautions and you can too.
If the best COVID-19 vaccine is only 50% effective, "that's still to me a great vaccine," said Dr. Drew Weissman of the University of Pennsylvania.
Will COVID-19 become the new STI? NYC health department guidelines suggest getting "creative with sexual positions and physical barriers," but will gay men listen?