Cocktail Culture
The Edison at Disney Springs shakes up the season with a reimagining of the Old Fashioned, which they dub the Autumn Harvest.
The Educated Barfly offers five concoctions to shake up on the spookiest day of the year.
The Educated Barfly says that Jägermeister can be appreciated as far more than a late-night shot. Here are six cocktail recipes that elevate a spirit with a bad rap.
October 4 is National Vodka Day. (Yes, it's a thing, along with National Taco Day — where is the poor margarita, though?) To help celebrate, Prince Lewis mixologist Nathaniel Lewis offers four libations to shake up your revelry.
Visitors to New Orleans who want to learn more about cocktails will soon have a new place to go. No, it's not another bar. The Sazerac Company, a Louisiana-based spirits maker, is opening the Sazerac House on October 2.
Steve the Bartender offers 10 easy cocktails that are super simple to recreate at home when entertaining — cocktails that don't contain a lot of extravagant ingredients.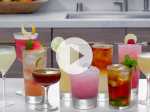 From the classic Cosmopolitan (which you can drink while watching "Sex and the City" reruns) to the gin-based Floridora, here are 10 easy-to-make summer cocktails.
The martini's heyday began almost a century ago, but today's bartenders have some innovative takes on the classic cocktail.
One in three wine drinkers don't know you can drink red chilled, according to research.
Red or white? New research revealed your choice of wine can say a lot about your personality.