Review: Ambitious, Memorable 'The Underground Railroad' Haunts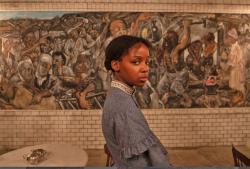 One of the early images in Barry Jenkins' sprawling, lyrical, beautiful, and haunting 10-episode limited series "The Underground Railroad" is our protagonist, Cora (Thuso Mdebu), falling away from the camera and into the ether in slow motion, her arms grasping at nothing. It immediately reminded me of The Sunken Place in Jordan Peele's 2017 social horror, movie "Get Out," and "The Underground Railroad" quickly establishes itself as something with just as much, if not more, terrifying caliber. Here, we're rooted in history and all its evils, and the result is something staggeringly impactful.

In Chapter One, titled "Georgia," we're plunged into Hell. Never shying away from the dehumanizing nature of Black history in America, Jenkins creates indelible images in the series' first episode that linger throughout each remaining entry. Some of them chill you to the core, including a POV shot that has still not escaped me. Some of them are profoundly beautiful despite their inherent tragedy, including "moving portraits" that are interspersed throughout the series, highlighting the eyes, faces, and humanity of the series' cast, staring directly into the camera and demanding we pay attention, reflect, and understand.

That's something I've always admired about Jenkins' work. Whether it's the stares of longing across a restaurant table in "Moonlight" or the broken-hearted eye exchanges between torn-apart lovers in "If Beale Street Could Talk," he is a cinematic artist who can perfectly capture the rich emotional textures of how people look at one another, and the power of the space between them. In "The Underground Railroad," many of these stares are often accompanied by fear and untold trauma, making this something far more powerful and different than anything Jenkins has done before.

The first episode is a waking nightmare, highlighted by vibrant, purposeful cinematography and remarkable sound design, with roaring cicadas, labored breaths, and ephemeral moments of haunting silence penetrating the aural landscapes. As we move forward into the fantastical nature of the narrative, based on Colson Whitehead's Pulitzer Prize-winning novel, Cora discovers a literal underground railroad, complete with tracks, trains, engineers, conductors, and more. It takes her through southern state after southern state, each one bringing new insights into American history, as she's pursued relentlessly by bounty hunter Arnold Ridgeway (Joel Edgerton) and constantly dodging the dangers of her precarious surroundings.

Through stunning, memorable, breakthrough performances (Mdebu is a revelation, while the young Chase Dillon brings incredible gravity to a mostly silent performance), the characters of this story are brought to life effortlessly and forge permanent imprints on the viewer. The creative team here is superb, from Nicholas Brittell's sweeping score and Gabe Hilfer's wise music supervision to the striking photography by James Laxton and monumental production design by Mark Friedberg.

The final product is so many things all at once, and enough to leave you breathless, especially in the series' feature-length penultimate episode, "Indiana Winter". The cyclical history of trauma is studied prominently throughout, crafting an ambitious thesis that is certainly achieved, and we're left with plenty to sit with as observers. I'll be thinking about this series for quite some time, as it's an undeniable highlight in Jenkins' oeuvre and an important work of American filmmaking in general.


"The Underground Railroad" streams on Amazon Prime Video starting May 14.
Comments on Facebook