Review: 'Stone Fruit' is an Anti-Rom Com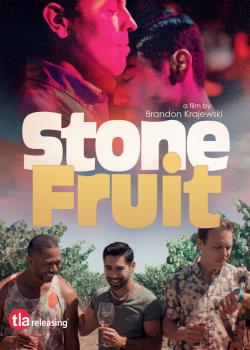 Do relationships have a sell-by date? If so, what's the best way to deal with it when the love - or at least the willingness to be together - expires?

Such are the questions in co-writer/director Brandon Krajewski's debut feature, "Stone Fruit." Manny (Matt Palazzolo) is a happy-go-lucky sort; he's a potter who'll take his shoes off during a stroll through the forest to soak up healing electrons right form Mother Earth. He has what his husband calls "presence."

Russ (Rob Warner) is that husband, a wine enthusiast and corporate drone who makes a good wage but, Manny feels, lacks imagination. The two of them are very different, but they've made it work for seven years - five of them as a legally married couple - and now they're taking one last weekend trip together, a trawl through wine country, before they divorce and Manny heads off to Santa Fe to become an artist in residence at a pottery studio.

The two bicker constantly, but just as constant is their banter - affectionate, good-natured, and pleasurably exasperated. Clearly, they have decided to call things off while they're still best friends. But the darker, rougher undercurrents rage just under the surface and it only takes an extra sip or two of wine at one or another of their roadside stops to bring the ugly parts of their relationship to the fore.

Byron (Thomas Hobson) is there to see some of that. Byron is a friend with benefits - to Manny and Russ as a couple, but also separately - though they haven't seen him in a long time. He happens to be in the same place as they are because of a work-related conference. Byron is the audience stand-in - he's the one who gets to ask the questions we might ask, ourselves, were we sitting at a picnic table sampling wine pours with them.

He's also a reason for Manny and Russ to enjoy intimacy after a long dry spell. As the film unfolds, the couple's capacity for recrimination becomes sharper - in one zinger, Manny tells Russ he won't be Russ' "arm candy" any more, to which Russ promptly bites back, "Candy's supposed to be sweet" - but the question of how and when to move on wavers in and out of focus. How resolved are the two that this trip will be their "divorce weekend" and not a second honeymoon?

The film portrays Manny and Russ' early years as a rom com we've missed out on, but what interests Krajewski is the notion of what might happen after a rom com's credits roll. Is there such a thing as happily ever after? "Stone Fruit" acts as an anti-rom com, in which "conscious uncoupling" is envisioned as a kind of "un-meet cute." Along with the one-liners are many painfully truthful moments, and many passages that are tender and compelling. It's easy to become invested in the journey Manny and Russ are taking, and to take that journey with them.


"Stone Fruit" is available on DVD April 20 from TLA Releasing.
Kilian Melloy serves as EDGE Media Network's Associate Arts Editor and Staff Contributor. His professional memberships include the National Lesbian & Gay Journalists Association, the Boston Online Film Critics Association, The Gay and Lesbian Entertainment Critics Association, and the Boston Theater Critics Association's Elliot Norton Awards Committee.
Comments on Facebook