Review: 'The Furies,' an Overlooked Masterpiece, Gets a Significant Upgrade on Blu-ray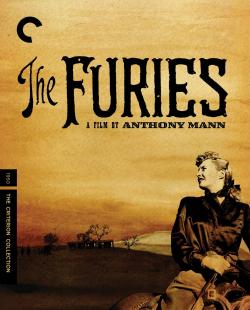 Anthony Mann had a pretty unique career compared to his Hollywood peers; he wasn't a big, boastful, or showy director that helmed epics for the big studios. His lower-budgeted, more elemental film noirs and westerns were filled with grace notes, even frequently pulling from Shakespeare's "King Lear" in ways that created an interesting dialogue between old and more up-to-date theatricality.

But it was his adaptation of Niven Busch's "The Furies" that stuck out as something really special — a studio picture with big studio money and actors, yet very clearly was the work of Mann. And although the ending was, and still is, a bit too neat for everything that preceded it, the film contains multitudes that are the reward of repeat viewings.

The Criterion Collection brings "The Furies" to Blu-ray with a new 1080p presentation sourced from a high-definition digital restoration. This is a clear upgrade over Criterion's 2008 DVD release, although it looks to be sourced from the same master. That being said, the uptick in resolution is a substantial improvement. Plus, all the previous special features from the 2008 DVD have been carried over and a new video essay by film critic Imogen Sara Smith has been added. This is, once again from Criterion, a superlative release of a film that so rightly deserved an upgrade.

T.C. Jeffords (Walter Huston) is a priggish and proud cattle baron in 1870s New Mexico who has built his own sprawling ranch from scratch. His spitfire daughter Vance (Barbara Stanwyck) is set to inherit the ranch when she comes of age, although T.C. is requiring her to marry the right man for that to happen. She's torn between Rip Darrow (Wendell Corey) — a saloon owner with a grudge against T.C. — and Juan Herrera (Gilbert Roland), a longtime friend whose family lives on the outskirts of the ranch. But when T.C. falls for Florence 'Flo' Burnett (Judith Anderson) and plans to marry, Vance's plans of inheritance are upended.

What sets "The Furies" apart from conventional westerns for which Mann was known is the inclusion of a strong female lead and the more novelistic approach to the material. It's almost as if you can see the pages turning on this story with each new scene, even stopping multiple times to give the audience a chance to read into whatever is happening. Mann is adept at pulling incredible performances from his talented cast, as well as letting each moment breathe for the exact right amount of time.

If you're a fan of old westerns or really just want to watch one of the great underrated Barbara Stanwyck performances, then "The Furies" belongs in your collection. This release comes highly recommended.

Other special features include:

• Audio commentary from 2008 featuring film historian Jim Kitses
• "The Movies: 'Action Speaks Louder Than Words,'" a 1967 television interview with director Anthony Mann
• Rare on-camera interview with actor Walter Huston, made in 1931 for the movie-theater series Intimate Interviews
• Interview from 2008 with Nina Mann, the director's daughter
• Trailer
• English subtitles for the deaf and hard of hearing
• PLUS: An essay by critic Robin Wood and a 1957 Cahiers du cinéma interview with Anthony Mann, as well as a new printing of the 1948 novel by Niven Busch on which the film is based


"The Furies" is now available on Blu-ray from The Criterion Collection.
Comments on Facebook