An Almost Ordinary Summer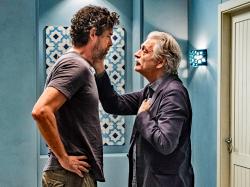 This crowd-pleaser Italian rom-com is the tale of two polar opposite families who have unwittingly been brought together for a summer vacation because the two patriarchs have a secret they want to share.

The setting is a stunning seaside mansion which is the home of a grand art dealer, Toni (Fabrizio Bentivoglio), who has invited his pot-smoking hippy sister and his two daughters: Olivia, a famous actress, and Penny (Jasmine Trinca), a deeply unhappy kindergarten principal. Tony has lent the mansion's guest house to Sandro (Filippo Scicchitano) and his pregnant wife Carolina, and Sandro'a father Carlo (Alessandro Gassmann), who hasn't been the same since his wife died. They run a small family fish store on the outskirts of Rome.

Toni shares bombshell news at dinner when he tells his family he is getting married again... this time to Carlo, who is having problems telling his own family the news. Most of the them are shocked but delighted with the news, except for Penny and Sandro, who vow that they will do their best to stop the wedding from happening.

Penny is still carrying abandonment issues from when she was a child and Toni was very much an absent father out having a good time. Sandro, for his part, is a hot-blooded and very excitable Italian man who cannot control his homophobia. Their actions result in some hilarious comic scenes, but this is the sort of feel-good film where you are always sure that whatever happens, love will win out in the end.

It's a gentle dig at their own country (where same-sex marriage is still illegal), but the issue here is not of the political consequences but how these two men who are both grandfathers can reconcile themselves, and their extended families, to the reality of their relationship.

It's a joyous film that is like a breath of fresh air, and that deals with a hot-button topic without resorting to heaviness or lapsing into cliched scenarios.
An Almost Ordinary Summer (croce E Delizia)
Two very different families spend their holidays in the same seaside house: the aristocratic Castelvecchio's — open-minded, eccentric, but quite selfish — and the working-class Petagna's — very tight-knit and united around solid conservative values. What brought such distant worlds together? Only Tony and Carlo, the two middle-aged heads of the families, know! The unexpected announcement of their engagement will disrupt an apparently ordinary summer and turn the lives of everyone around them upside down. With the wedding already set for three weeks, even more chaos will ensue.
Info
Runtime :: 100 mins
Release Date :: Jan 01, 2019
Country :: Italy

Crew
Roger Walker-Dack, a passionate cinephile, is a freelance writer, critic and broadcaster and the author/editor of three blogs. He divides his time between Miami Beach and Provincetown.
Comments on Facebook