Jonathan Agassi Saved My Life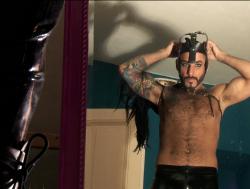 There is a real sense of irony about the title of this documentary. "Jonathan Agassi Saved My Life" is about the famous Israeli gay porn star who, aside from his seemingly successful career, seemed hell bent on a spiral of self-destruction. In the opening scenes of the profile, Agassi comes over as a charismatic, confident, and extremely good looking young man who uses his very large penis to carve an erotic and fun packed life; but later on it becomes apparent that he simply cannot cope with the success his career brings.

This intriguing documentary, from openly gay Israeli filmmaker Tomer Heymann ("Who's Gonna Love Me Now") was filmed over the course of seven years. In typical Agassi fashion, when Heymann first called him to make the offer the adult film star thought he wanted sex, like any other client. Heymann, however, is not just interested in capturing Agassi naked and in flagrante (although he does that plenty of times), but, as with his other recent films, he wants to explore the actor's complicated life.

Agassi now lives in Berlin, but is still very close to his mother, whom he calls via Skype or travel to Israel to visit. He tells her everything about his work and even shows her some of the porn films he has made for sites such as SEX-HD.XXX, although he turns the shows off before the real action starts. Seeing him parade around in front of her barely dressed in scanty clothing that he is going to wear to a shoot is uncomfortable to watch.

Agassi's mother knows that he is also an escort, and there is an interesting scene when Agassi is with her and his young sister and tells them that although he has sex for money, he is not a prostitute. He compares himself to Julia Roberts playing a hooker in "Pretty Woman," which, very sadly, he believes he is.

Agassi's father walked out on the family when he and his brother were still infants, but now his father is living in Berlin and Agassi is eager to have some sort of relationship with him. That backfires when he asks his father for the reason why he had left all those years ago, and the yarn he spins as an excuse really upsets his mother when he later relates it to her.

Agassi got his big break in porn with Michael Lucas, who was very quick to acknowledge Agassi's meteoric rise to fame. Maybe the speed was something that eventually triggered the start of Agassi's problems, as later on Lucas is heard to complain how unreliable Agassi had become and how he felt he had to demote him to bit part player. Agassi had trouble adjusting to not being the star, with the Porn Awards that he used to win now being given to other performers,

There is no detailed mention of money, but Agassi starts doing escort work and live sex shows to supplement his income and fund the expensive drug habits that eventually lead to his downfall.

What we had mistaken for a possibly charming life at the beginning is revealed as a very lonely one. With no sign of a boyfriend or a close personal relationship, Agassi tells his mother that he is her man. She replies very emphatically: No, you are my boy.

Heymann is careful not to make judgements on Agassi, but actions speak louder than words and none more so than when it is he who has to rescue the performer when he collapses in the street after taking too many drugs. Agassi, for his part, should be commended for allowing the filmmaker such open access, as it must make for uncomfortable viewing even for him. Nevertheless Heymann has managed to keep us totally engaged for the whole time even as the train wreck of a life unfolds.
Roger Walker-Dack, a passionate cinephile, is a freelance writer, critic and broadcaster and the author/editor of three blogs. He divides his time between Miami Beach and Provincetown.
Comments on Facebook