1 thru 10 of 8300 Stories
After it was announced that AIDS and LGBTQ activist Larry Kramer died Wednesday at 84, tributes from fellow activists, celebrities and others soon came pouring in on social media.
Jason Derulo is once again going viral — this time it's thanks to his hilarious response to the popular "Wipe it Down" challenge on TikTok.
Larry Kramer, one of the most prominent activists to the AIDS crisis in the 80s and 90s, died Wednesday in Manhattan, according to The New York Times. He was 84.
NBC "Tonight" show host Jimmy Fallon has apologized for doing an impersonation of fellow comic Chris Rock while in blackface during a 2000 episode of "Saturday Night Live."
Kathy Griffin has charged back into controversy with a wisecrack about a "Syringe with nothing but air inside it" — seemingly, her prescription for the current president.
Out actor Cheyenne Jackson took to Instagram over the weekend to open up about his struggles with his hair, noting that he's had five hair transplants.
Out actor Dan Levy - son of comic Eugene Levy and co-creator of the acclaimed comedy "Schitt's Creek" - offered some perspective on wearing a face mask as the COVID-19 pandemic continues to rage.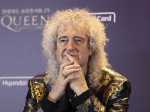 Queen guitarist Brian May says he recently had three stents put in after experiencing "a small heart attack."
WWE wrestler and mixed martial artist. Fashion entrepreneur. LGBTQ role model. It seems like nothing is out of reach for Daria Berenato, the first openly gay female wrestler in WWE history.
Country music singer Morgan Wallen apologized Sunday following his weekend arrest on public intoxication and disorderly conduct charges.
1 thru 10 of 8300 Stories