Gay Indianapolis: The Latest
The disappearance and almost-certain death of Gabby Petito and the police hunt for her boyfriend have generated a whirlwind online, with a several armchair detectives and others sharing tips and theories by via TikTok, Instagram and YouTube.
On "Nine Perfect Strangers," star Luke Evans shows off his toned body at every opportunity, thanks to scenes in a sauna. Now the actor is in Columbia, getting more in shape by training with the country's army for his new project.
On the latest episode of "The Other Two," Cary goes on a date with an up-and-coming Hollywood actor, who may just be gay-baiting him for media attention.
Millions of people will get a chance to get to know the shy, teenager Evan Hansen this month, but Ben Platt is waving farewell.
Singer Sarah Dash, who co-founded the all-female group Labelle — best known for the raucous 1974 hit "Lady Marmalade" — has died. She was 76.
A gay couple in Tennessee who were bounced by a wedding venue because they are both men have been flooded with offers of wedding services at a discount since their story hit the news.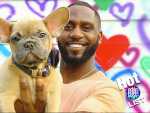 Gus Kenworthy made headlines last month for his partnership with Autotrader and Adopt-a-Pet.com. But you don't need to be a former Olympic athlete to show off your four-legged friend for National Dog Week.
The across-the-board rules, which will take effect in November, will replace a hodgepodge of confusing restrictions. Here's what to expect.
Fashion editor Richard Buckley, and husband to fashion designer Tom Ford, has died. He was 72.
A human rights group urged Thailand not to deport a transgender businesswoman to her home country of Malaysia, where she is charged under Islamic laws for insulting Islam by cross-dressing.
Boxer Manny Pacquiao — who once condemned LGBTQ+ people in committed relationships as being "worse than animals" — has announced he will run for president of the Philippines.
With a terrific new 4K presentation bolstered by HDR10, this is the best the film has ever looked at home.
Aetna is being sued by a lesbian couple who allege discrimination because the company requires higher out-of-pocket expenditures before covering fertility treatment for non-heterosexuals.
An Australian entomologist has given the name Opaluma rupaul to a newly discovered species of soldier fly, a metallic-looking, rainbow insect he says earned the name for "serving fierce looks."
When the nonessentials threaten to put your finances in jeopardy, it's important to keep your financial goals on track. Here are five strategies to help you navigate impulse spending.

Which one of these hot hatches is the better buy? Edmunds' experts put the two speedy compacts head-to-head to determine a winner.
This year's edition of New York Fashion Week brought a broader, freer sense of style to the catwalk, with a healthy representation from brands that seek to shed staid gender constraints.
The reality is breakthrough cases are becoming more common. Here's what I wish I'd known when those first symptoms laid me low.
A beach popular with gay men in Italy has been named the world's second-best spot for skinny-dipping.
This year's celebration of Carnaval des Couleurs will be a multicultural celebration filled with fun and activities.