Gay Indianapolis: The Latest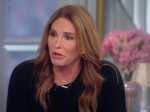 Appearing on "The View," Caitlyn Jenner teases another run at politics with her "socially progressive" views.
"The Other Two," which completed its 10-episode second season this week, all but solidified its place as television's queerest show. Here's a look at the second season's queerest and funniest moments.
"Queer Eye" food expert Antoni Porowski has a new cookbook out, titled "Let's Do Dinner," and he's been making the media rounds to talk about it.
Just as Netflix's "Grace and Frankie" comes to a close this year, friends and frequent co-stars Lily Tomlin and Jane Fonda have already committed to teaming up again for a new comedy movie directed by Paul Weitz.
On Sunday, Adam Levine posted a photo on Instagram he called "inappropriate." In the black-and-white pic, the Maroon 5 frontman Is seen stretching his frame in a doorway wearing a pair of tight briefs.
Author, lifestyle entrepreneur, and reality show star Bethenny Frankel drew ire with podcast comments about pronouns and transgender kids that were decried as being transphobic.
Horror icon Elvira — also known as Cassandra Peterson — reflected on what sort of label she might apply to herself, and finally came up with: "I don't know what the hell I am!"
Hospitals and nursing homes around the U.S. are bracing for worsening staff shortages as state deadlines arrive for health care workers to get vaccinated against COVID-19.
The Daily Stormer website advocates for the purity of the white race, posts hate-filled, conspiratorial screeds against Blacks, Jews and women and has helped inspire at least three racially motivated murders. It has also made its founder, Andrew Anglin.
President Joe Biden said Monday that he intends to nominate Dr. John N. Nkengasong to coordinate the U.S. response to the HIV/AIDS epidemic worldwide.
On "60 Minutes" this week, Liz Cheney made news by saying she "was 'wrong' to oppose gay marriage in the past." But more recently she voted against the Equality Act.
Not to be confused with the video game of the same name, "Alone in the Dark" boasts one of the most eclectic collection of actors in a horror film.
Beyond Meat and Impossible Foods found success with realistic plant-based burgers. Now, they're hoping to replicate that in the fast-growing but crowded market for plant-based chicken nuggets.
A 12-year-old is going viral for taking a stand against homophobia in gaming and being an example of LGBTQ allyship we all need.
Here are some options to use your rewards from credit cards or hotels to help pay for your next vacation rental.

Which small sedan is the better buy? Edmunds' experts compare the 2022 Civic and 2022 Corolla to find out.
We love Anthony Bourdain. We're angry at him. We miss him. We need him. We celebrate him.
EDGE welcomes multi-talented actor Freddy Franklin as part of our "Living Sober" live conversation series in collaboration with the groundbreaking, LGBTQ+-affirming treatment center Recovery Unplugged.
For those in the know, fall is one of the best times of year to visit Provincetown. Here's our shortlist of what not to miss.
Andersonville Homecoming debuted in Chicago in the north part of the city. The three day outdoor festival benefitted the Andersonville Chamber of Commerce, with plenty of entertainment, including three stages of performance artists.