A Taste of the Holidays: 9 Gifts for Your Favorite Foodie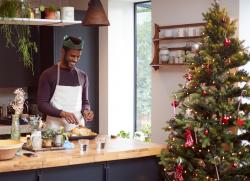 'Tis the season for creative gifting. Fortunately, there are plenty of easy-to-order options for your loved ones who love to spend time in the kitchen (or at their home bar). Here are seven of our favorite picks.

Bertoux Brandy
Bertoux Brandy is an elegant bottle for any of your tippling friends and family. With hints of nutmeg and dried fruit, all with a warm toasty essence, Bertoux is blended and pot-distilled in California and then aged for three to seven years in French and American oak. Brandy shouts holidays, whether featured in classic cocktails like the sidecar, decadently stirred into eggnogs, or sloshed as a finishing touch to decadent sauces like a brandy peppercorn sauce. $45


Hilliards Chocolates Craft Beer Caramels
Craft beer, good; salted caramels, good; chocolate, good... what could be better than putting them all together? Hilliards Chocolates says nothing at all, and they couldn't be more right for that hardcore beer aficionado on your list.

With more than 100 years of chocolate making history, Hilliards' Massachusetts-based confectionary whips up luscious confections from barks to truffles, but their Craft Beer Caramels, featuring Shovel Town Brewery's Double IPA is a beer-forward mouthful.

The perfectly chewy caramels are dipped in dark chocolate and dusted with Langwater Farm hops and pretzel infused sea salt and not shy on the beer notes — perfect for the beer and chocolate combo lover! 12-piece craft box $14.99

iichiko Shochu
Tipplers ready for something they've never experienced before will love iichiko Shochu Saiten. A white spirit meticulously distilled from mugi (two-row barley) and koji, iichiko Shochu is reminiscent of honey-dew and watermelon rind on the nose while flavors of soy, earth, jasmine tea and peach come in on the palate. It's perfect for sipping or mixing into bright cocktails like the Umami Martini or the Saiten Mojito — an out-of-the-box gift instead of a bottle of wine. $34.99


KPOP Foods K-Town Sauce Set
We all have them on our list: condiment-crazy friends or family. Treat those sauce fanatics to a bottle (or set of 3) of KPOP Korean-style hot sauces.

The company hatched by two business school buds (Theo Lee and Mike Kim) longing for the flavors of their families' and one celebrity chef, Chris Oh ("Cutthroat Kitchen," "Knife Fight,""Great American Food Truck Race") features Korean style snacks as well as sweet, rich and, of course, spicy sauces to satisfy any spice-ophile.

The "K-Town" set includes honey glaze, XXX sauce (which lives up to its spicy name!), kimchi mayo and a fun bandana to show off your saucy pride. $25.99

Enzo Olive Oil
The majority of olive oil consumed in the U.S. is imported, so if you're looking for a rare find that celebrates American heritage and offers beautifully balanced flavor drawn from organic, estate-grown olives, Enzo is the perfect find. The on-site mill extracts the golden elixir at the peak of freshness. Go full throttle with the Ultimate Selection, featuring six varieties including three varieties organic California estate-grown extra virgin olive oil plus clementine crush, Fresno chili crush and basil crush. Prices vary. Ultimate Selection, $99.95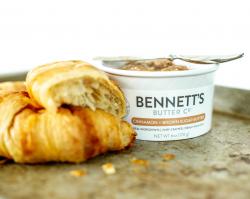 Bennett's Butter Co.
Everything's better with butter, and why not make it delicious flavored butters from Bennett's Butter Co.? With flavors like Sriracha Jalapeno, Everything Bagel and Cinnamon and Brown Sugar, Bennett's has all your luscious bases covered. Cook with them, layer them in sandwiches, or simply spread them on a great piece of bread. These are the perfect stocking stuffers (though keep them refrigerated until Christmas morning!) for anyone that adores a little spreadable decadence. 6-packs range from $35-$39

Molly Stevens' "All About Dinner"
Answering the oft-dreaded daily question, "what's for dinner?", Molly Stevens' new book "All About Dinner" can give anyone on your list a leg up. From the simplest basic bits of know-how, like conversion tables, recipes for staples like mayonnaise, chicken broth, and tart dough to full meals with casual elegance like White Bean Gratin with Tomatoes and Sausage, Stevens offers ideas within reach but still packed with flavor and originality. $40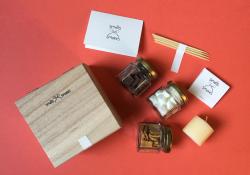 Small Smores
Size isn't everything. This miniature kit offers a nostalgic take of our favorite campfire treat. Each Small Smores box includes mini marshmallows, chocolate, grahams, roasting sticks and a candle — the ideal gift for a cozy night at home this holiday season. $25

Meat N' Bone
Looking for the perfect gift for your favorite carnivore? Gourmet butcher Meat N' Bone has stores in Miami and Coral Springs, Florida, but you don't have to be a local to take advantage of their premier cuts. Customize your own gift box or let the Meat N' Bone team assemble a shipment of their best-selling products, such as the Incredible Giftset ($199), which features four Wagyu-Angus cross cuts including a ribeye, New York strip, filet mignon and outside skirt steak. Those in the Florida area can book an experience with a private chef, such as the Grill Master Omakase ($650) for up to 10 people. Regardless of what you order, steaks are hand-cut and trimmed, and aged for a minimum of 30 days. Order by December 18 to ensure delivery by Christmas. Price varies.




Additional contribution by Matthew Wexler.
April Stamm is a lifestyle and food writer and chef based in Manhattan and Brooklyn, NY.

This story is part of our special report titled "Holidays 2019." Want to read more? Here's the full list.
Comments on Facebook