1 thru 10 of 4106 Stories
LaQuan Smith is all about the Champagne lifestyle: bubbly, luxurious and, especially when it comes to the women's clothes he creates, sexy.
Style guru Alex Costa returns with some of his favorite looks for autumn.
An openly gay 23-year-old Saudi man who is an online personality has been arrested and charged with "sharing nudity online" after having posted a photo of himself at the beach - wearing shorts.
From a humble start of leaving the world of finance to write a beauty blog, Huda Kattan now has become one of the most recognizable names in makeup around the world.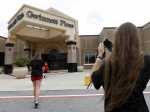 Most of the Georgia mall heavily featured in the latest season of Netflix's "Stranger Things" is going up for sale.
Thousands of pairs of Nike knockoffs were seized at the Los Angeles-Long Beach ports complex recently in a shipment arriving from China, U.S. Customs and Border Protection said Wednesday.
Not long after their wedding ceremony, Justin and Hailey Bieber are sharing steamy pics from a new Calvin Klein campaign.
Ettinger, one of Britain's finest luxury leather accessories brands, has opened its U.S. 'Flagship Residency' in Turnbull & Asser's storied New York Townhouse in the heart of Manhattan.
Online shoe brand Allbirds plans to more than double its store count next year, hoping to reach shoppers who want to touch and try on its wool shoes.
Author Marcellas Reynolds profiles more than 70 black models from the past 60 years in his new book, "Supreme Models."
1 thru 10 of 4106 Stories