Gay Indianapolis: The Latest
Thousands of curious Earthlings from around the globe traveled to festivals, and several hundred made forays toward the secret Area 51 military base in the Nevada desert on Friday.
Jennifer Lopez won Milan Fashion Week on Friday, wowing the crowd at Versace when she emerged wearing a version of the jungle dress that nearly broke the internet almost 20 years ago.
The Pentagon on Friday announced it will deploy additional U.S. troops and missile defense equipment to Saudi Arabia and the United Arab Emirates.
Facebook said Friday that it has suspended "tens of thousands" of apps made by about 400 developers as part of an investigation following the Cambridge Analytica scandal.
Young people afraid for their futures protested around the globe Friday to implore leaders to tackle climate change, turning out by the hundreds of thousands to insist that the warming world can't wait any longer.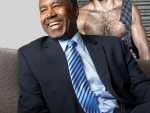 Housing and Urban Development Secretary Ben Carson is coming under fire this week after the Washington Post reported that he made transphobic remarks at an internal meeting to other H.U.D. employees.
The question posed to Pete Buttigieg — gay, married and running for president — came from a supporter at an Iowa campaign stop: What should he tell friends who say America isn't ready to elect a gay man as president?
President Donald Trump repeatedly defended himself Friday against an intelligence whistleblower's potentially explosive complaint, including an allegation of wrongdoing in a reported private conversation Trump had with a foreign leader.
Indonesia's president urged lawmakers on Friday to delay a vote on a proposed new criminal code amid mounting criticism of the bill, which opponents say threatens democracy and discriminates against minorities.
A General Motors offer to invest $7 billion in U.S. facilities includes $2 billion from joint ventures and suppliers for new plants that would pay workers less than the top union wage, a person briefed on the matter said.
President Donald Trump and his team are distorting the facts in explaining the administration's decision to stop California from setting its own emission standards for cars and trucks.
For its 2019—2020 season, Promethean Theatre Ensemble (PTE) explores the status of women throughout history and within imagined societies, beginning with "Blue Stockings," the 2013 debut play from Jessica Swale.

Thomas Cook, one of the world's oldest and largest travel companies, is facing a race against time to stay afloat.
Rather than moving users' personal data from properties such as WhatsApp and Instagram to the core Facebook platform, the company should put a wall around the services or, better yet, sell them off, a conservative lawmaker said he told Zuckerberg.

It's not too early to think about your holiday travel. Now is the time to save when booking flights.
One California lawmaker is already working on a way to preserve at least some of the state's environmental muscle: Rebates for electric cars.
A naïve streak is running through the collections on preview during Milan Fashion Week — with a return to simpler times, yesteryear prints and patterns and unfussy silhouettes.
Meet the vaping hoodie. This high school fashion mainstay — defined by a hood with drawstrings — is now available as a vaping device, ready to deliver a puff of nicotine (or marijuana) anywhere, anytime. Including in the classroom.
The second annual edition of the Carnaval des Couleurs will take pace Oct. 7 - 9. It's a great event that brings together the multi-ethnic and LGBTQ communities of Montreal at the Grande-Place of the Complexe Desjardins, with free access to everyone!

Always a pillar of the house music scene for gay and gay-friendly participants, this festival represents a true cult that continues to attract Canadian, American and European fans.