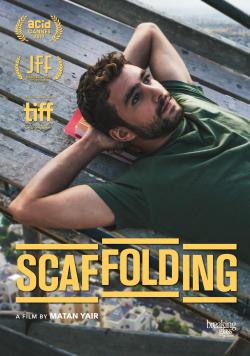 Breaking Glass Pictures will release the award-winning, festival favorite, Israeli drama SCAFFOLDING in North America. The film debuts on all digital VOD platforms January 1, including iTunes; Amazon Prime Video; Google Play; Vudu; FandangoNOW; iNDEMAND; Direct TV and more, as well as on DVD.

Described as "a fully absorbing character study (Los Angeles Times) and "a tough and moving educational drama" (The Hollywood Reporter), this "small film with a big heart" (Screen International) earned the title of "one of the most beautiful and interesting films that were ever made in Israel" (Avner Shavit, Walla) when it held its world premiere at the Cannes Film Festival in the prestigious ACID showcase. The film went on to win numerous awards, including Best Israeli Feature and Best Actor awards as well as an honorable mention for Best Cinematography at the Jerusalem Film Festival, and received 8 Israeli Film Academy nominations and won the prize for Best Supporting Actor.

"Matan Yair's debut feature is both dazzling and wonderfully literate", said Richard Ross, Co-President of Breaking Glass. "Newcomer, and non-actor, Asher Lax delivers a mesmerizing, assured performance in this complex tale of a boy and his difficult relationship with both his father and teacher."

17-year- old ASHER has always been the impulsive troublemaker, from primary school, all through junior high and high school. It's hard for him to concentrate in class, and he is compelled by a lot of rage and violence; yet he is also endowed with a considerable amount of charm and street wisdom. While his strict father sees him as a natural successor to the family's scaffolding business, Asher finds a different masculine role model in his gentle literature teacher Rami and forges a special connection with him. Torn between the two worlds, Asher looks for a chance for a new life and new identity. When a sudden tragedy occurs, he has to take the ultimate test of maturity.

SCAFFOLDING played a number of film festivals, including the Toronto Independent Film Festival, the Chicago International Film Festival, the Philadelphia Film Festival, and the Raindance Film Festival.

Starring newcomer Asher Lax alongside Ami Smolartchik (Florentine) and Yaacov Cohen (The Flood), the film is the directorial debut from writer/director Matan Yair, and is proudly presented by producers Gal Greenspan, Roi Kurland, Stanislaw Dziedzic, Leon Edery, Moshe Edery, and associate producers Maya Fischer and Adi Bar Yossef.

Enter to win!

Thanks for visiting EDGE!
Enter this contest
If you already have an account with EDGE, all you need to do is log in; we'll pull your address information from your account and simply ask you to verify it. If you do not yet have an account with us, register now! It's easy and free, and you'll never have to type in your personal information again. If you prefer to enter this information manually, you can use the manual entry link below.
Register
Manual Entry
Click here for contest rules.
* Please be aware that creating multiple accounts for the same person will disqualify you.