Daddy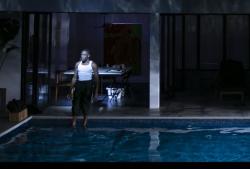 Playwright Jeremy O. Harris is on a journey through unchartered waters. His plays are deeply personal, borderline fetishist, and startlingly original. He's flooded with ideas, and a compulsion to shock. "Daddy," his latest play at The Pershing Square Signature Theatre, produced by The New Group and Vineyard Theatre, is a wild ride. Intriguing and unwieldy, "Daddy" is a surreal mediation on race, art, sex, religion, identity and exploitation.

Set in present-day Los Angeles, Franklin (Ronald Peet) a bright, young attractive black artist, meets Andre (Alan Cumming), an older, suave, wealthy white art collector, and moves into his sleek Bel Air home where he sets up a studio to work on his "weird dolls of black boys" in preparation for his first solo exhibit.

The action takes place in and around Andre's impeccably furnished modern home, (designed by Matt Saunders) dominated by a full size swimming pool so close to the audience that those seated in the front row are frequently splashed as the characters, clothed or naked, use the pool to swim, sing, dance and copulate.

Andre, whose home include work by Basquiat and Twombly, worships Franklin's skin and body as well as his skill, and their sexual relationship involves role-playing and mild sadomasochism. Franklin's young, hip friends, Max (Tommy Dorfman), an unemployed actor, and Bellamy (Kahyun Kim), a social media addict, lounge poolside. Max is suspicious of Andre, and can't wrap his head around what's under this complicated "sugar daddy" relationship. Bellamy is happy to indulge herself on the perks Andre's wealth and status provide. Also in the arty mix are Alessia (Hari Nef), a brash gallery owner who exults over Franklin's dolls, and a three-women "Gospel Choir" who comment chorally on the action, hovering around the stage, watching Franklin's every move, as if they exist inside his mind.

Enter Franklin's single mother Zora (Charlayne Woodard), a proud woman of unflinching religious convictions, anxious that her son has not been returning her calls. The fragmented, discursive plot heats up as Zora, mocking her son's dolls as "coon babies," attempts to retrieve him from the clutches of his sponsor and lover. Meanwhile, Franklin, torn between his seductive patron and his majestic mother, builds larger-than-life-size dolls that represent these opposing forces, and gradually becomes more infantile, sucking on his thumb. The three-act play gets stranger from there, with a bizarre poolside ritual, and a sudden revelation about Franklin's absent father.

The playwright's language and plotting are powerfully heightened, and the entire production floats on a stylized plane. Director Danya Taymor manipulates all of the design elements brilliantly, almost operatically - the multi-level, glass-paned set, the sound design (Lee Kinney) with its atmospheric, film-like underscoring, the phantasmagoric lighting effects (Isabella Byrd), the eerie transitions, and even a musical number staged in the pool with the characters fully dressed.

Her work with the actors is less consistent. With some of the performances, the heightened style is intensified, while Cumming's Andre — alternately tender and cruel — is more rooted in realism. Woodard is as driven and intense as Peet is fragile and insecure, Dorfman and Kim are amusingly superficial, Nef is hilariously aggressive, and Carrie Compere, Denise Manning and Onyie Nwachukwu are a compelling presence and in great voice as the formidable Gospel Choir. While the production is consistently tantalizing and stunning to behold (the costumes by Montana Levi Blanco are impeccable), it lacks emotional depth. Jeremy experiences panic attacks at various moments in the play, which are more witnessed than felt by the audience.

"Daddy" is surprising, provoking and unique. This bold work raises a multitude of complex psychosexual questions, and answers none.

"Daddy" continues through March 31 at The Pershing Square Signature Center, located at 480 West 42nd Street, New York. For more information, visit the New Group website.
Comments on Facebook