Song Of Parkland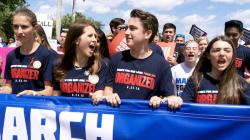 The theater kids were rehearsing when the gunman stormed Marjory Stoneman Douglas High School last Valentine's Day.

They were practicing songs from "Yo, Vikings," a kids musical the students were getting ready to present to their community, like they did every year.

When the fire alarm went off, their teacher Melody Herzfeld wanted them to finish the song. The teens credit that decision with saving their lives once they realized what they thought were fireworks were actually gun shots.

Amy Schatz's short (30 minute), simple HBO documentary "Song of Parkland" recounts how theater also saved the students and the school as they recovered from the senseless massacre that took 17 lives. There was drama on stage, but none with the police, as Herzfeld sheltered her young actors in the theater storage room for two hours.

"It was like a war zone," Herzfeld says.

But the student interviewees knew the show must go on, eventually.

"We need to finish what we started," one says. "Our lives were disrupted, but we can keep moving on from something tragic."

"Working on a show gives us a sense of normalcy, strength."

The ensemble feels that theater has always been a safe zone, and remains so after such a tragedy.

Herzfeld reports that ten of her students became the face of the activism following the shooting, and one says that theater training helped them to speak up, figuratively and literally. They created and spoke at the national activism event March for Our Lives.

The group also realized they needed to finally put on the Vikings musical, which they did. They also wrote and recorded songs about their experience, singing "We're just 17; we grew up too fast."

The MSD theater kids were invited to the 2018 Tony Awards, where they sang "525,600 Minutes/Seasons of Love" from Rent.

When they returned home, they continued to sing, and to heal.
Louise Adams is a Chicago freelance writer at
www.treefalls.com
(and a nom de guerre).
Comments on Facebook