PopUps: Did Lady Gaga & Madonna Put an End to Their Ongoing Feud?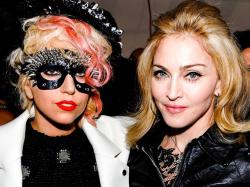 Lady Gaga may be celebrating her recent Oscar win but the singer may be also be celebrating rewatching things with a friend.
After the 91st Academy Awards ceremony Sunday night Gaga, who won an Oscar for Best Original Song, and Madonna were photographed canoodling together at the Material Girl's Oscars afterparty, and many believe their ongoing feud has finally come to an end.
In the pic, Madonna, wearing a silky white dress, is seeing caressing Gaga's face as she clutches her Oscar. Madge shared the pic on her Twitter, writing, "Don't Mess with Italian Girls...."
When Gaga was campaigning during awards season last year, many fans thought Madonna shaded the "Applause" singer over her "there can be 100 people in a room" speech. Madonna shared a similar clip to her Instagram Story in December, seemingly mocking Gaga. She followed up that post with an Instagram that said, "Don't fuck with me Monday."
People magazine notes the women have had a tense relationship for the last ten years. In 2011, Gaga denied accusations that she copied Madonna's "Express Yourself" for her single "Born This Way." Madonna later said that Gaga's track "feels reductive" and "familiar."
"I currently think she references me a lot in her work...Obviously I've influenced her," Madonna said in an ABC News interview."
She talked about the track in 2015 in a Rolling Stone interview.
"The only time I ever criticized Lady Gaga was when I felt like she blatantly ripped off one of my songs," Madonna said. "It's got nothing to do with 'She's taking my crown,' or 'She's in some space of mine.' She has her thing. I do think she's a very talented singer and songwriter."
In a 2016 Billboard interview, Gaga talked about Madonna and herself and their similarities.
"I wouldn't make that comparison at all. I don't mean to disrespect Madonna...she's a nice lady. And she's had a fantastic, huge career," Gaga told Zane Lowe on his Beats 1 radio show. "But I play a lot of instruments. I write all my own music. I spend hours and hours a day in the studio. I'm a producer. I'm a writer. What I do is different."
Nevertheless, in her 2017 Netflix documentary "Gaga: Five Foot Two," the singer opened up about her relationship with Madonna.
"So the thing with me and Madonna for example, is that I admired her always. And I still admire her, no matter what she might think of me," she said. "She wouldn't look me in the eye and tell me that I was reductive or whatever... Telling me you think I'm a piece of shit through the media? It's like a guy passing me a note through his friend."

This story is part of our special report titled "PopUps." Want to read more? Here's the full list.
Comments on Facebook